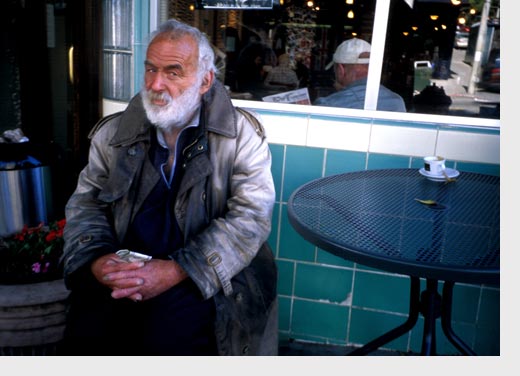 Drama at Peet's
Tuesday: May 9th on Fillmore, corner of Sacramento. Time: 4 in the pm. I see a photo op I can't resist; an older woman holding a beautiful little tyke on her lap. I move in on the prey sitting on the bench in front of Peet's coffee.
I take a couple of shots almost right on top of her when a homeless person comes up to me and asks for some change. It's not a cold day but he has on a filthy heavy coat and is generally a mess. He tells me that Peet's won't let him in the joint, so he asks me to go in and get him "a coffee and banana bread." The woman holding the baby, without missing a beat, digs into her purse and hands me 2 one dollar bills.
I am taken back by this generosity since she was not, up to this moment, even involved with his request. I go into Peets and a coffee is poured and I then ask for banana bread. "We're out of banana bread!" I go out and tell him that they don't have any banana bread and asked him for his next choice. He tells me that he either will take "a pineapple or a marble cake."
I go in again only to be told that they are "out" of both of these choices and once again I go out and break the news to him. I'd like to see if we can wrap this transaction up.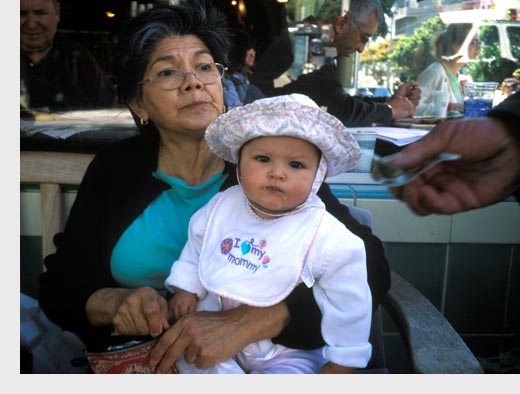 He asks me if I would walk down to the coffee joint at Fillmore and California Streets as they carry "banana" cake. He has some physical problems and must hang on to me for support. I'm not thrilled with this turn of events as he is filthy. Just as we head down the hill, he has a change of heart and gives me back the $2! He then says he wants $1 back for the bus.
I gave it to him and then handed him the other dollar which was given to me by the lady with the baby. He rejects the offer! I try pushing the dollar on him, but he keeps on refusing to take it.
We all go our separate ways and a block or so later I realize that I walked away with the woman's dollar.